proscreens is well known throughout the UK supplying big screens for all kinds of events like cinema events and presentations and meeting and events.
Before renting a screen, be sure to consider the size and type of screen you need, as well as any additional equipment, such as projectors or speakers, that may be required
We help you bring your big-screen ideas to life. Our large range of high-quality projection and LSD screens and audio systems ensures that you will find something that fits your needs exactly without breaking the budget.
Screen Hire
We are also well respected in the film industry worked on many films throughout the years. We have so many different types of big screens for all applications.  We have outdoor inflatable screens for outdoor cinema we also stock LED screens for a daytime films showing Outdoors and sporting events and also the screens are used for a publicity stunts. Over the years we have worked with so many big companies such as EDF Energy and we are regular visitor to the NHS. we do the NHS conferences throughout Surrey Kent Hampshire and London. We also Hire small projectors and screens for small presentations and also any equipment needed to support your event this includes PA systems microphones left home staging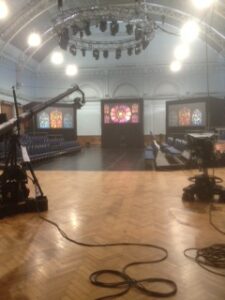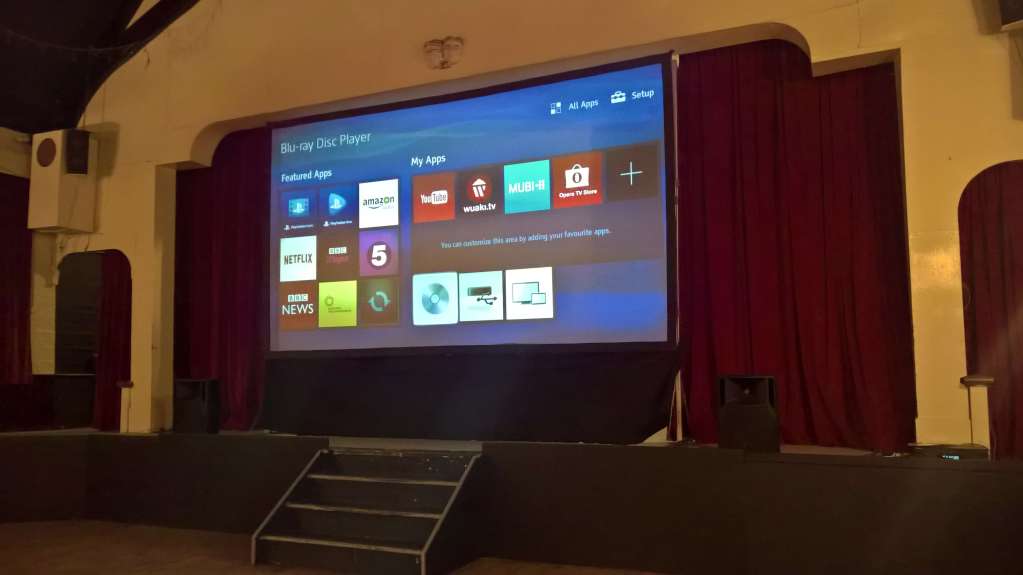 Over the last 5 years, outdoor cinema has become bigger and bigger but proscreens was at the forefront of outdoor cinema 18 years ago.  Over the last 18 years of outdoor cinema, we have built up a wealth of knowledge both of outdoor cinema and the elements.  We hire outdoor cinema for events we used to different types of screen first and cheapest one is an outdoor inflatable screen you need to bear in mind that this screen needs to have complete Darkness. The second technology for outdoor cinema is an LED screen there is so many now on the market and most of them are not designed to show films. At proscreens we have designed and manufactured an outdoor LED screen that is safe self-powered and able to show films throughout the day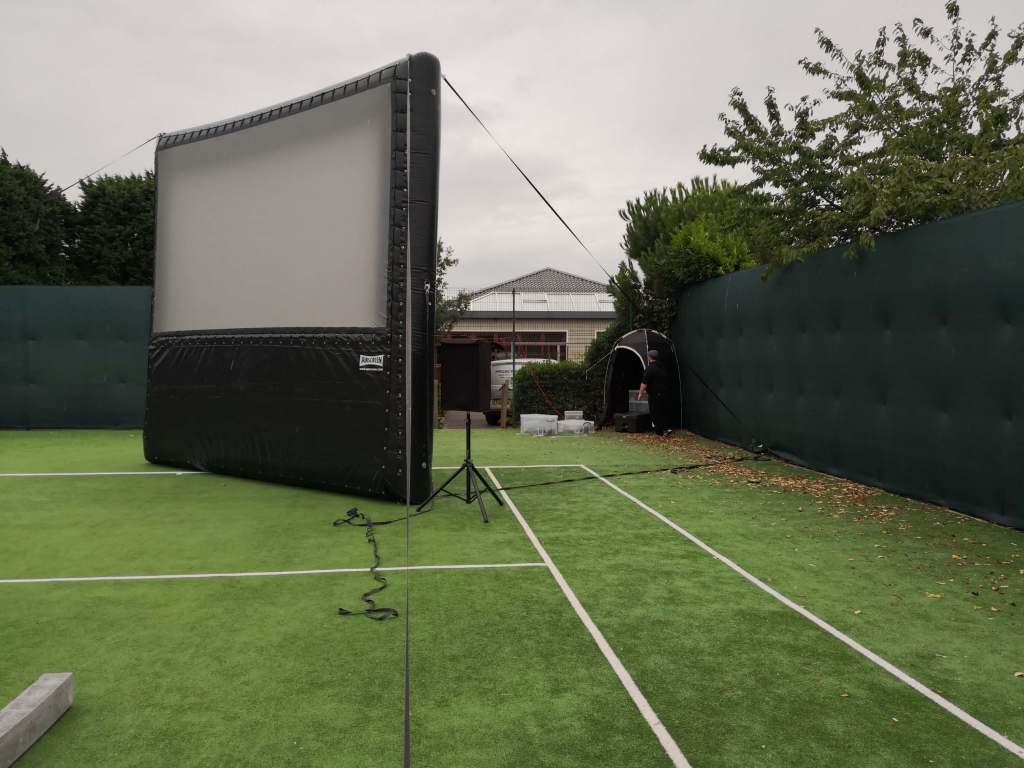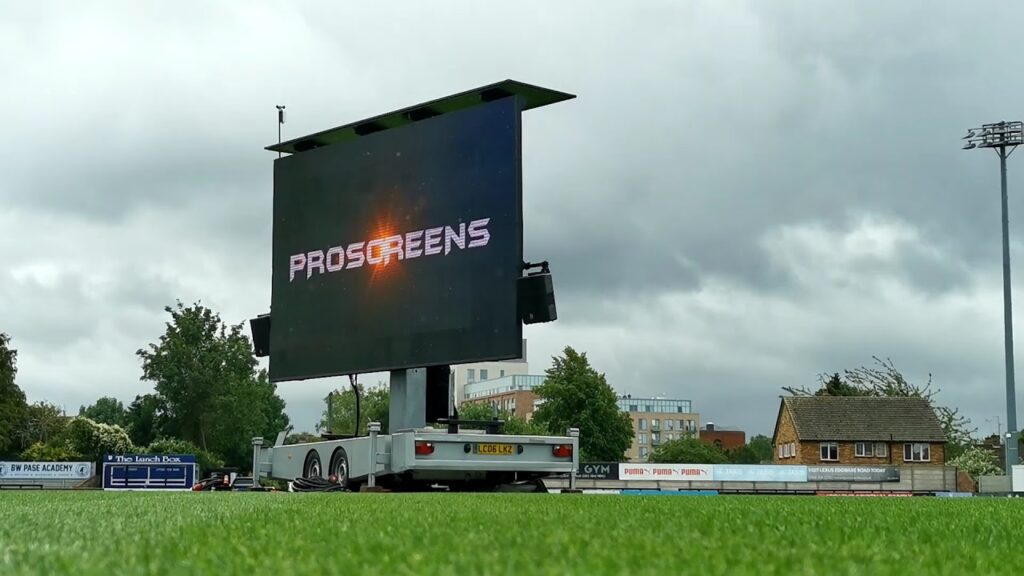 Our high-quality projectors and screens and AV hire equipment are in excellent condition and is regularly serviced and tested. Traditionally we cater for companies who require short-term hire use of a Projectors screens and pa systems however we do cater for a range of diverse clients. Whatever the occasion. Whether you are after data projector hire for a simple PowerPoint on a laptop presentation or a large multimedia presentation to big audience, we can provide your entire Projector screen and Projector rental needs. Proscreens can create the right AV rental package that will add real value to your presentation. We provide a range of services for hotels and conference centers supplying projectors , screens, and audiovisual equipment Conference AV Equipment Hire London 24 hour hire and customer support
Proscreens provide a complete range of cinema equipment Hire and screen Installations of mobile cinema rental and cinema events
When you're organizing an exhibition or trade show, having the right partner is essential. Here at Proscreen Hire, we work closely with exhibition organizers, venues, and planners across Surrey, Hampshire, and  London to help turn exhibition events into reality. TV screens for exhibition hire systems
If you're tight on space for projection screens why not consider a TV screens Hire? We stock both 42" 47″and 50 60" 75″
TV Hire or LCD TV screens with stands and shelf for your laptop or DVD player
All screens come complete with a free floor stand perfect for presenting at Exhibitions, Conferences, Seminars, we are local to London as we have a van in Surrey and Hampshire ready to deliver screens and projector and pa systems. we are a 24 hours service 7 days a week.
For bigger events the question will be what size screen? and what size PA system? The size of screen will depend on the number of people viewing and obviously a bigger factor is the height of ceiling. More is explained on our screen hire page. The best PA system for you will depend on so many different factors, for example will the person doing the presentation like to roam around with hands free ? If that is the case they will require a lapel mic. They may prefer to stand at a lectern so they can refer to their notes. In this case we can hire you a lectern and microphone. Also will there be Q&As (questions and answers) from the audience? In this case you will need a roaming microphone which are sometimes known as baton microphones. Normally we prefer to supply radio microphones on microphone stands rather than a cabled microphone. This prevents any tripping over trailing cables.
 screen hire
projection screen hire
hire big screen tv for garden
indoor cinema screen hire
projector and speaker hire
mobile cinema screen hire
Fast-FoldŽ Deluxe
More durable than ever! Da-Lite's Fast-FoldŽ Deluxe frame and legs are constructed of sturdy 31mm (1 1/4″) square aluminum tubing and feature easy release Snap-Latches for simple, quick set up and tear down of the screen. Available with Da-Mat, Da-Tex (rear), and Dual Vision, all Fast-FoldŽ Deluxe surfaces are interchangeable with standard Fast-FoldŽ surfaces for easy substitution. The complete screen kit also includes a new rugged carry/storage case with wheels. 
If you need help picking a screen give us a call
188 x 137cm Fastfold screen (74″ x 54″)
213 x 160cm Fastfold screen (84″ x 63″)
244 x 183cm Fastfold screen (8′ x 6′)
305 x 229cm Fastfold screen (10′ x 7.5′)
 366 x 274cm Fastfold screen (12′ x 9′)
 427 x 320cm Fastfold screen (14′ x 10.5′)
508 x 386cm Fastfold screen (16′ x 12′)
5ft x7 ft font only
10.6x 14ft fast fold screen
When a portable projection screen is required, Fast-Fold is the professional choice. Compact, highly portable, sizes to meet all projection formats, assembly without tools and interchangeable surfaces for both front and rear projection, Fast-Fold screens give the maximum in adjustability for all situations. True color, contrast and surface flatness for perfect image
#cinemahire #outdoorevents #cinemahire #cinema #filmmaker #Dcpcinema #bigscreen #bigscreenhire #bigscreens #proscreens #cinemahire #eventprofs #wemakeevents #eventproduction #screenhire #inflatablescreen #outdoorcinema https://proscreens.uk/big-screen-hire/
Screen hire is a great way to make an event or gathering more interesting, engaging, and memorable. Whether you're hosting a birthday party, wedding, corporate event, or anything else, hiring screens can be an excellent way to make your event stand out.
At screen hire, we specialize in providing high-quality screens and equipment for any kind of event. We have a wide selection of screens to choose from, so you're sure to find one that fits your needs. Whether you're looking for a large-scale LED screen or a smaller LCD screen, we have it all.
Our screens come in a variety of sizes and resolutions, so you can find the perfect screen to fit your event. We also provide a variety of accessories such as stands, mounts, and brackets to make sure your screen is displayed the way you want it.
We also offer a wide range of services to make sure your event is a success. Our team of experienced professionals can help you plan out your event and set up your screens in no time. We also provide technical support and troubleshooting in case you run into any problems.
When you rent screens from us, you can rest assured that you're getting the highest quality product. Our screens are regularly tested to ensure that they are up to the highest standards of quality and performance. We also provide the latest in technology, so you can be sure your screens will be up to date with the latest trends.
At screen hire, we strive to provide the best possible experience for our customers. We're committed to providing top-notch customer service, so you can be sure you'll have an enjoyable experience when you rent screens from us.
If you're looking for a reliable and affordable way to upgrade your event, screen hire is the perfect solution. We have a wide selection of screens and equipment to choose from, so you can be sure to find something that fits your needs. With our team of experienced professionals and top-notch customer service, you can be sure your event will be a success.
No tags for this post.